SAINT MARGARET's, CORSE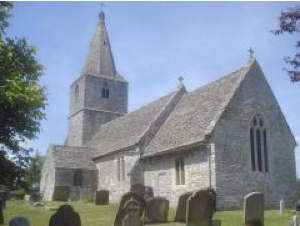 St Margaret's Church at Corse stands in apple orchards, in the midst of a peaceful rural landscape north of Hartpury, Gloucestershire, beside a half-timbered manor of Corse Court. The church dates to the 14th century, though the presence of a 12th century Norman font hints at an earlier structure.

The first historical record of a church at Corse comes in 1290, when it was mentioned as belonging to nearby Deerhurst Priory, one of the largest landowners in the area. The 14th century building may have been built by the owners of nearby Corse Court.

The building consists of north and south porches, chancel, nave, and a three-stage west tower with an external stair. The south porch is of stone, while the north porch is timber-framed and daes to about 1500. Most of the church fabric is 14th century, with some restoration work in the Victorian period and early 20th century.

The main east window is 15th century, while further windows in the nave and chancel are original 14th century work. Some fragments of original medieval glass still remain. There are 6 bells; three are 17th century and one dating to the 16th century.

The most interesting historic feature is the simple 12th century font, crafted in a chalice shape, ornamented with cable design and scallops under the bowl rim.

The eastern end of the churchyard was originally part of an orchard belonging to Corse Court. It ws later converted into a burial ground for local Quakers; one of the first Quaker cemeteries in Britain.

Chartism at Corse
Near the church is Snigs End, an estate established by Chartists under the leadership of Feargus O'Connor, a Victorian social activist who sought to create a utopian vision of a 'New England' based on worker's living off the land in intentional communities. Snigs End is one of only five communities built by the Chartists before the movement came to an end. An exhibition in St Margaret's church tells the story of the Chartists at Corse, and traces the history of the community, the church, and local education.
Contacts: Churchwardens Claudia Gough (01452 840368) and Peter Singh (01452 700197) or Rector Revd John Longuet-Higgins (01452 700965) vicar.westof7@gmail.com